Hi! I'm Connor. I am in the 3's class; and this is my second year at WLCN. I live in Columbia with my Mom and Dad, my brother Luke and my sister Erin who is in her second year of college in Florida. I want to talk about the very cool Thankful Turkey that I made in this picture. As you can tell from my grin, I love Thanksgiving and really like making things.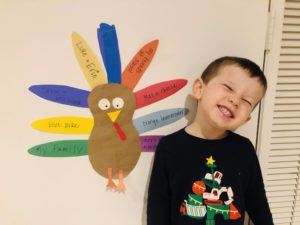 The green feather is my family. I really love my Mom and Dad, my brother Luke and my sister Erin. I am very happy that my sister is home for a whole week to celebrate Thanksgiving! She will also be home in a few weeks for Christmas break. Christmas is the best also! My brother Luke is also really cool; and I like to go down to his room when he is home to see what he is doing. I also love my cousins Ava (who is in the 3's class with me) and Emma, and my Uncle Mike and Aunt Miranda. We hang out all the time, and Ava is my best friend.
The next feather is my blue bike. Boy, I love my blue bike. I have been riding it without training wheels since June. I told my Dad in May that I wanted to take the training wheels off. He told me that I was too little, and maybe wait until next year. Well, I found a wrench in the garage and decided to take them off myself! Soon after, my parents let me ride in the yard with no training wheels; and I hardly fell! Now I can ride my bike all the way to the playground! My Dad is my biking buddy – I can't wait to go to the Rockburn skills park with him when it warms up!
The next feather is Tabor and blue blank. At nap time, I sleep with them in my bed. I have slept with my blue blanket for years – Tabor the toy cat is pretty new, is white and pink, and is a great cuddler.
The next feather is Luke and Erin. I have already talked a bunch about them. They were so happy when I was born. My Mom and Dad had to try for a long time to get pregnant with me. When I was born, Luke didn't want to hold me because of how small I was. Luke will be going to college next year, and I will miss him like I miss Erin. Erin Facetimes me almost every night at school, which I really like a lot.
The next feather is my friends at school. They are the coolest! I get to go to school with my best friend Ava – which is AWESOME. And I play with all my other friends there as well. I was just Star Student of the Week! I was able to bring my orange lawnmower to school for show and tell. It is another feather on the turkey. It is my favorite toy. I like to mow the lawn with my Dad. When I press the start button, it starts up like a real lawn mower! I love working in the yard.
The other feathers are mac-and-cheese, and movie nights with popcorn. Mac-and-cheese is my favorite thing to eat. I want to eat it every day, but my Mom makes me eat lots of other things for lunch and dinner. I also love to make popcorn in the microwave for movie night. My parents let me press the buttons, and then we sit on the big couch in the living room and watch movies. I really like Toy Story, 101 Dalmatians, The Little Mermaid, and Mr. Peabody and Sherman. My Dad is trying to get me into Star Wars, but I am not into it yet.
I hope you had a great Thanksgiving!!!