One of the day trips that has been on our regular rotation of outings since Matthew could walk is a visit to the B&O Railroad Museum at the old Mt Clare Station and Yard in downtown Baltimore. Many of the museum's exhibits are housed inside the huge (and rarely busy) Roundhouse, including the very popular "Junior Junction" hands-on play area where we have spent hours buffering up model train engines and cars and running them around the tracks carved into the beautiful train tables there.

There's also plenty of train themed books to read in a quiet reading nook when you need a break from buffering up, or it's little brother's nap time.
The rest of the Roundhouse is full of old engines and train cars, several of which are connected by platforms for visitors to walk through.
Between two of the engines is a merry-go-round on which visitors can ride wooden train engines with bells to ring! Believe it or not, you could completely miss this feature (we have) inside the Roundhouse, whose roof covers an area nearly one acre in size.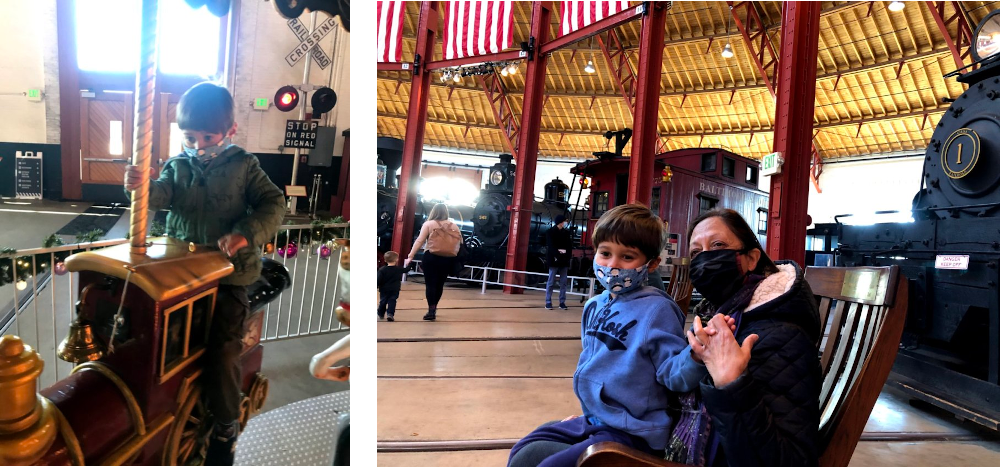 Matthew loves activating the trains in the train garden just outside the Roundhouse. There's also a small playground to play on, tables available for picnics or snacks, and on weekends during the busier warm weather months, the museum opens its cafe and staffs rides for children to enjoy. There are platforms adjoining the Roundhouse that house trains, one which has been converted to a venue to host birthday parties, while another holds a huge model train display. There's also an active train platform where you can catch a train that will take you down the first mile of commercial railroad in the United States, making a stop at the new City of Baltimore Mounted Police stables.
Visitors can even work the controls of a steam engine inside the passenger car shops
In the Spring, the Museum hosts a "Day Out with Thomas" that is a huge hit.
But we think the best time to visit the B&O Railroad Museum is during the Christmas Season when the Roundhouse is full of model train displays, craft stations, a walkthrough Christmas tree, and a huge polar bear. The museum also hosts Polar Express train rides complete with hot chocolate (Oh, they've got it!), cookies, Santa appearances, and a bell, which we hope still rings for you!