Every day the Perkins Family tries their best to eat the rainbow—no, not an actual rainbow! We mean different foods of different colors all throughout the day. Eating all the colors of the rainbow helps us keep a fun and varied menu.
If you want to eat the rainbow too, here are some pro tips from sous chef Juniper:
1. Make a board! A Perkins Family favorite is the brunch board with lots of fruit for topping our waffles and veggies chopped into cheesy egg cups.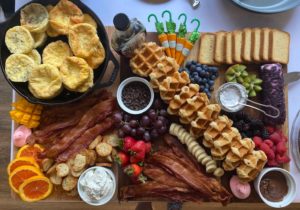 2. Become a pizza expert! You can put all sorts of things on top of pizza—be creative! You can even get the entire rainbow on one pie with tomato sauce, orange bell pepper, cheese, basil, blue potato, and red onion.
For some really adventurous pizza topping ideas, check out one of Juniper's favorite books titled "Pete the Cat and the Perfect Pizza Party" by Kimberly and James Dean. It's a classic rhythmic read for pizza lovers of all ages!
3. Put it in a popsicle! For a delicious, refreshing, fun food try homemade popsicles. We use yogurt, bananas, strawberries, blueberries, spinach, and chia seeds—SIX colors in one popsicle!
4. Find some inspiration in a book! Two more of Juniper's favorite books are "RAH, RAH, radishes!" and "go, go GRAPES!" by April Pulley Sayre. There are all sorts of fruits and veggies in different colors waiting for you to try. We have donated copies of these book to WLCN for all of our friends to enjoy.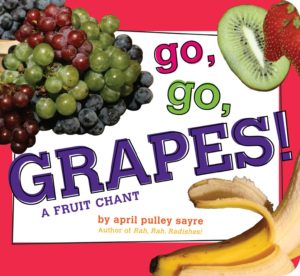 5. Sing a song! There are lots of fun songs about food, but our favorite comes from the Philippines where Juniper's grandparents are from. "Bahay Kubo" is a classic Filipino folk song about a little nipa hut and all the vegetable that grow around it. If you'd like to hear it, just ask Juniper to sing "Bahay Kubo" next time you see her at school and she will happily oblige. You can also find the Tagalog lyrics with the English translation here.
Happy Munching from The Perkins!